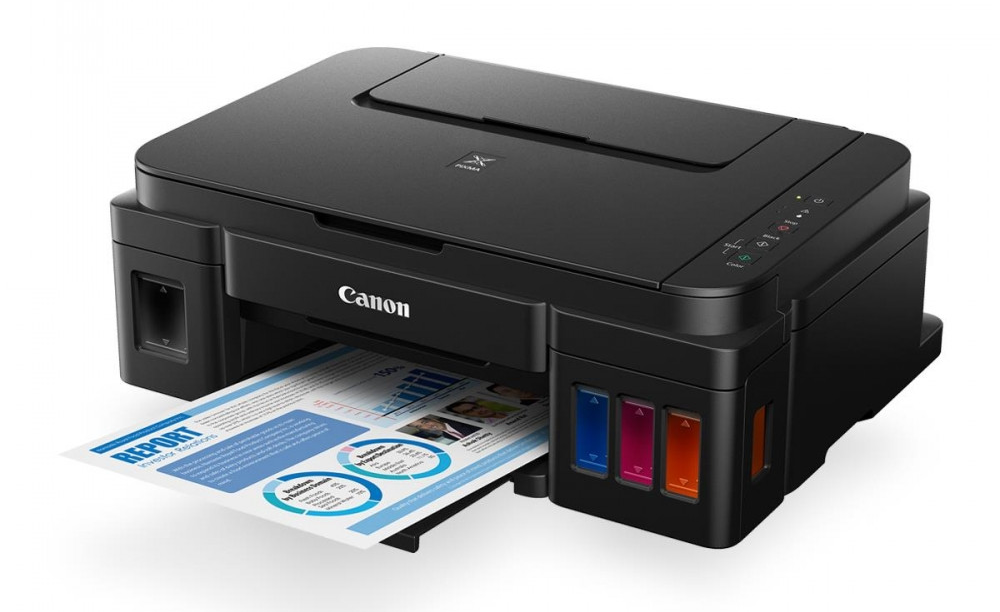 The Canon Pixma Endurance G2600 is made exclusively for performing moderately large printing jobs at home or in a small office. Unlike other small inkjet printers, the G2600 can handle heavier printing jobs at a faster and more economical rate. Normally, small portable inkjet printers use tri-color cartridges which are expensive to run especially for bulk printing projects. Also, these small printers are known to have low-capacity paper loading trays. They take longer to print huge loads of paper as you have to keep feeding the printer with new paper all the time.
It makes sense to buy a bigger printer that can be fed with a relatively larger paper load. You also realize that in the case of bulk printing, inkjet printers that use tri-color cartridges end up being very expensive in the long run. You need an ink efficient printer in their place, like the Canon Pixma Endurance G2600 which uses refillable individual color cartridges. Besides, this printer comes with all the perks of an ideal high volume home office printer. It is a notable feature as it includes a refined impressive design, multi-functionality and reasonably fast printing speeds.
This printer is ideal for small offices because it has multi-function capabilities. This feature not only saves on office space and time, but it also means that you get to save on both the purchase cost and power bills from individual devices. When buying a home office printer, it does not make sense to purchase a separate printer, photocopier and scanner. Instead, you can just buy an all-in-one printer like the Endurance G2600 and you are good to go. This Canon Pixma printer model can copy, print and scan documents all from the same point.
One particular area that the Pixma Endurance G2600 outshines its competitors is in its printing quality. Especially when it comes to colored photo printing, this printer produces really vibrant photos. This devices reaches a printing resolution of up to 4800 by 1200 dpi at its best performance. Usually, printing resolutions are measured in dots per inch or if you like DPI. The higher the DPI, the clearer the document. Additionally, this printer supports borderless. Photo printing which implies that you can use it in all your photography projects. The maximum printing speed on this printer is 8.8 IPM or impressions per minute for black and white printing. For colored printing, it can reach up to 5 IPM. .
The Canon Pixma Endurance G2600 uses individual refillable ink cartridges which are easy and cheap to replace. Unlike tri-color inkjet cartridges the cartridges on this device can be refilled independently whenever they run out of ink. This functionality reduces the ink wastage as you do not have to throw away the entire cartridge whenever one ink pocket runs dry. When full, the printer's full integrated refillable ink cartridges can print up to 7000 colored A4 pages and up to 6000 black and white A4 pages. Therefore if you have a bulk printing gig, one good refill is capable of sustaining you throughout your entire operation. The ink bottles have spouts designed to prevent any spillage, thus guaranteeing a clean, smooth printing operation.
Although the Pixma Endurance G2600 multi-function printer is not exactly a massive-scale commercial printer, it can still perform large printing jobs. The printer has a 110 sheet paper capacity on its rear paper feeding tray. The manufacturer even included a quiet mode on this device just to tone down the noise when working on bulk projects.
If you wish to get this printer for your office, you can contact your local leasing company. For example, if you need a copier in El Paso, you can contact El Paso (915) 201-3200. They can assist you with copier repair in El Paso, copier rental in El Paso, and copier lease in El Paso.