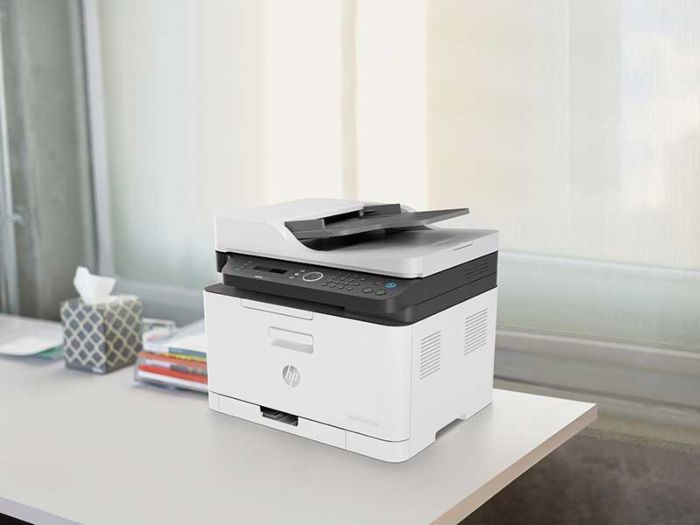 Now, laser printers are the trend in business premises. Adrift from inkjets, this printer became popular because of the cutting-edge technology to print, scan, copy, and fax documents. For that reason, models from different manufacturers are here and there. There are countless options to choose from, and one of them is the HP Color Laser MFP 179fnw. In this review, we will take a closer look at the good points of this model from HP and answer why you should buy it.
If you are in El Paso and you are looking for a Copier in El Paso for your business, you may contact Clear Choice Technical Services in El Paso. You can ask about Copier Leasing Services in El Paso, Copier rental services in El Paso, and Copier Repair in El Paso.
Space Saver
The HP Color Laser MFP 179fnw is a compact printer. Because of its compactness, it saves you more room for other necessary equipment or documents. The size is comparable to other compact laser printers from Brother and Lexmark. Its dimensions are 16.6 by 16.6 by 13.5, very compact inches. Printing areas are often small, and the equipment eats up the space, so compact printers help make the room feel more spacious.
Accurate Prints
Sometimes, the issue with printers is the color of the printed documents. Some color printers have discoloration, or the actual printed document is not the same color as it was on the computer. The HP Color Laser MFP 179fnw has minor issues on the color but is still on point. The colors are accurate and have fine grains, which are not that noticeable unless you take a closer look at them.
Fair Toner Powder Yield
Although it does not have that much of a bigger toner cartridge, the black can still yield to 1000 pages, and the three other colors can print about 700 pages. It is still a good yield since if we compare it to the size of the printer itself, it is still in proportion. The printer's drum can last up to 16000 pages, and the printer will notify you once you need to change it.
Text Printing
The HP Color Laser MFP 179fnw does a sublime job printing text-only documents. You can observe crisp black text on a low graphic document. This provides better quality than inkjets and has a deeper depth of blackness in the text.
Color Printing
When it comes to color printing, the quality is fairly average. For businesses that rarely print colored documents, this will do. It tends to be grainy for photos, as you would expect from a laser printer, but it is still usable. In scanning colored documents, it can only reach 300 dpi at most.
Downsides
For a compact printer, they made a few sacrifices to make this equipment. The paper tray has a capacity of 150 pages at most and can accommodate up to 50 printed pages on the upper tray. Duplex printing is not supported in this printer as well. The scanner on top of the flatbed can scan documents at a maximum of 300 dots per inch in quality, which is common in affordable printers. But because it is a multifunction printer, it is given that there are compromises in other aspects.
Conclusion

The HP Color Laser MFP 179fnw is a good fit for businesses that regularly prints documents in black and white but rarely in colored ones. This compact printer is a space saver because it is compact and is smaller than other laser printers. It is also accurate in printing but has slight discoloration in colored prints. To sum things up, this printer is good, and it can serve you with what you would expect from its price point. If you are looking for more, we have many offers that you can choose from. You can also lease or rent printers from us for a lower price. Our services are always available, dial us up, and we'll be there to serve you.